NGSE 5

The NGSE5 took place from December 7th through 9th 2021 as an online event that was co-organized by SCUT in China together with the partners FAU, HI ERN and ZAE. The NGSE5 program covered the areas
Fundamentals of Photovoltaics and Simulation
Organic Photovoltaics – Materials, Stability
Perovskites – Materials, Stability
Advanced Concepts, Processing & Upscaling, Applications
The list of invited speakers presented at the NGSE5:
Antonio Abate, Helmholtz Zentrum Berlin, Germany
Steve Albrecht, Helmholtz Zentrum Berlin, Germany
Gang Bao, Advanced Soltech, China
Derya Baran, King Abdullah University of Science and Technology, Saudi Arabia
Jonas Bergqvist, Epishine, Sweden
Chris Case, Oxford PV, United Kingdom
Carsten Deibel, Technische Universität Chemnitz, Germany
Liming Ding, National Center for Nanoscience and Technology, China
James Durrant, Imperial College London, UK
Bin Fan, GCL Nano Technology, China
Alex K.-Y. Jen, City University of Hong Kong, Hong Kong
L. Jan Anton Koster, University of Groningen, The Netherlands
Weiwei Li, Beijing University of Chemical Technology, China
Maria A. Loi, University of Groningen, The Netherlands
Morten Madsen, University of Southern Denmark, Denmark
Michael D. McGehee, University of Colorado Boulder, USA
David B. Mitzi, Duke University, USA
Uwe Rau, Forschungszentrum Jülich, Germany
Henry Snaith, University of Oxford, UK
Yanming Sun, Beihang University, China
Hongbin Wu, South China University of Technology, China
Jingbi You, Institute of Semiconductors, Chinese Academy of Sciences, China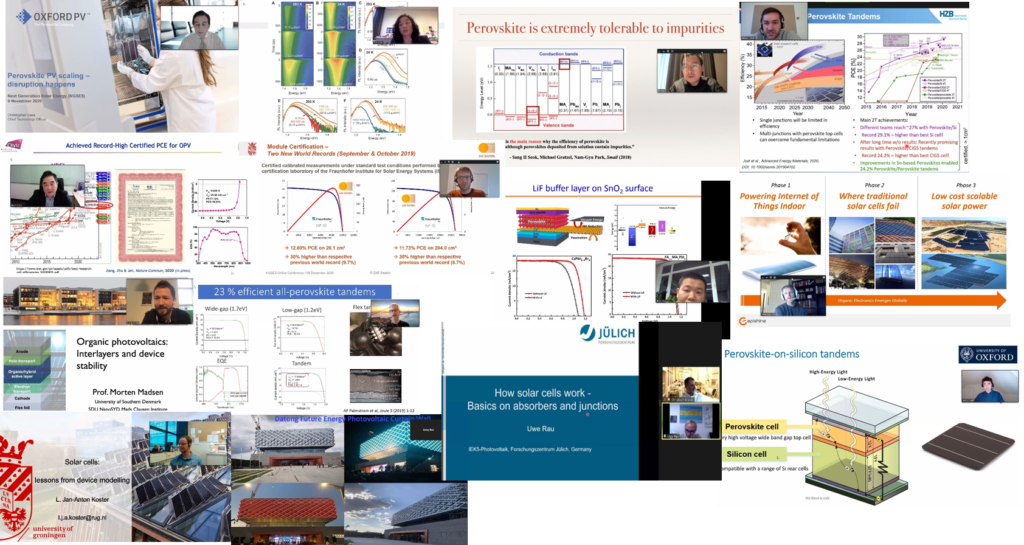 The program consisted of 11 Tutorials that were recorded and will be used in education as well as 9 Hot Topics contributions. 800 participants registered for the free event. Typical participation in the sessions was ca. 300.
Berlin Time
(Guangzhou Time)
Monday
Dec. 7th
Tuesday
Dec. 8th
Wednesday
Dec. 9th
9:00-10:00
(16:00-17:00)
Tutorial 3:
Organic Materials Design & Engineering
Alex Jen
(City University Hongkong)
Tutorial 8:
Advanced Concepts & Emerging PVs
Henry Snaith
(Oxford)
Upscaling for Si/PSK Tandems
Chris Case (OxfordPV)
10:00-11:00
(17:00-18:00)
Tutorial 4:
OPV Stability
Morten Madsen
(University of Southern Denmark)
Tutorial 9:
Processing & Upscaling
Bin Fan (GCL)
Andreas Distler and Fu Yang (ZAE Bayern)
11:00-12:00
(18:00-19:00)
Tutorial 5:
Microscopic simulations of PV
Jan Anton Koster
(University of Groningen)
Tutorial 10:
Applications of PVs
Jonas Bergqvist (Epishine),
Gang Bao (Advanced Solar Tech)
12:00-14:00
(19:00-21:00)
13:50 (20:50) Welcome
Break
Break
14:00-15:00
(21:00-22:00)
Tutorial 1:
Fundamentals of PV junctions
Uwe Rau
(Forschungszentrum Jülich)
Hot Topics Session 1
Hongbin Wu: Assessing efficiency of photoinduced charge separation between electron donor/acceptor interface in organic solar cells by quantifying radiative proportion method
Yanming Sun: Polymer fibril network morphology enables high-performance organic solar cells
Weiwei Li: Double cable conjugated polymers for single-component organic solar cells
Hot Topics Session 3
Maria Antonietta Loi: Sn-based perovskites from hot electrons to device performances
Jingbi You: Efficient perovskite solar cells with various bandgaps
Steve Albrecht: Perovskite-based tandem solar cells: towards 30% efficiency
15:00-16:00
(22:00-23:00)
Tutorial 2:
Fundamentals of Device Physics
Carsten Deibel
(Technical University of Chemnitz)
Hot Topics Session 2
Zuo Xiao: Development of efficient nonfullerene acceptors and polymer donors for organic solar cells
Xiaoyan Du: Elucidating the full potential of OPV materials with AMANDA and machine learning
James Durant: A comparison of charge carrier dynamics in organic and perovskite solar cells
Plenary:
Mike McGeehee
Making metal halide perovskite solar cells stable
16:00-16:30
(23:00-23:30)
Break
Introduction and live demonstration of Emerging PV database
Osbel Almora/Christian Berger
Wrap up & Closing remarks
16:30-17:30
(23:30-0:30)
Tutorial 6:
Inorganic Materials Design & Engineering
David, Mitzi
(Duke University)
17:30-18:30
(0:30-1:30)
Tutorial 7:
Perovskite Stability
Antonio Abate
(Helmholtz Zentrum Berlin)