NGSE 7

The NGSE7 took place from 6th – 8th of December 2022 in hybrid format. This 7th edition of the NGSE conference focused on the topic of "Machine learning method and high-throughput experimentation for material research". The first two days were divided into 4 sessions:
Material discovery & Machine learning.

Machine learning methods for material research.

High throughput experimentation and automation.

Machine learning for PV research.
On the last day, two topic-specific workshops were organized:
Emerging PV database workshop.

Transparent photovoltaic workshop.
---
Videos:
---
Speakers: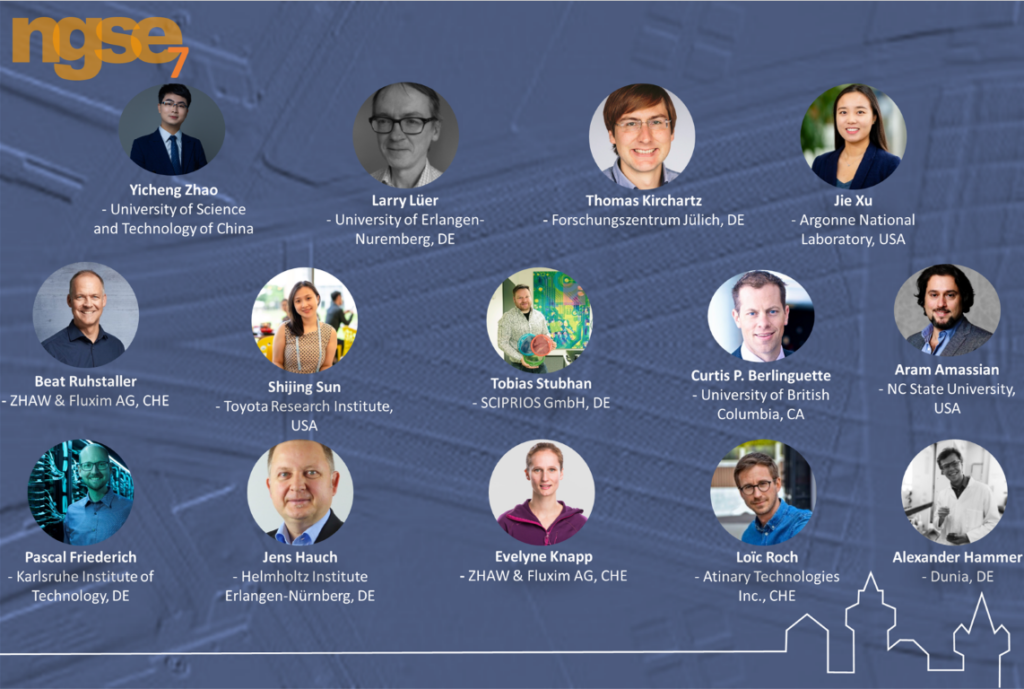 Tobias Stubhan, SCIPRIOS GmbH, Germany
Shijing Sun, Toyota Research Institute, USA
Aram Amassian, North Carolina State University, USA
Pascal Friederich, Karlsruhe Institute of Technology, Germany
Curtis P. Berlinguette, University of British Columbia, Canada
Thomas Kirchartz, Forschungszentrum Jülich, Germany
Yicheng Zhao, School of Electronic Science and Engineering, University of Science and Technology of China
Jens Hauch, Helmholtz Institute Erlangen-Nuremberg, DE
Loïc Roch, Atinary Technologies Inc., Switzerland
Alexander Hammer, Dunia Innovations, Germany
Jie Xu, Argonne National Laboratory, USA
Beat Ruhstaller, Zurich University of Applied Sciences (ZHAW) & Fluxim AG, Switzerland
Larry Lüer, University of Erlangen-Nuremberg, Germany
Evelyne Knapp, Zurich University of Applied Sciences (ZHAW) & Fluxim AG, Switzerland
Anita Ho-Baillie, University of Sydney, Australia
Hin-Lap Yip, City University of Hong Kong, China
Mohammad Khaja Nazeeruddin, EPFL, Switzerland
Fei Guo, Jinan University, China
Eva Unger, Helmholtz-Zentrum Berlin, Germany
Roland Krippner, Technische Hochschule Nürnberg, Germany
Aldo di Carlo, University of Rome, Italy
Harald Ade, North Carolina State University, USA
Richard Lunt, Michigan State University, USA
---
Organizing Committee
Dr. Vincent M. Le Corre
Friedrich-Alexander University Erlangen-Nürnberg
Dr. Ning Li
Friedrich-Alexander University Erlangen-Nürnberg
Osbel Almora
Universitat Rovira i Virgili, Tarragona
Karen Forberich
Helmholtz Institute Erlangen-Nürnberg for Renewable Energy (HI ERN)
Dr. Jens Haus
Helmholtz Institute Erlangen-Nürnberg for Renewable Energy (HI ERN)
Hans-Joachim Egelhaaf
Energie Campus Nürnberg
Prof. Christoph J. Brabec
Friedrich-Alexander University Erlangen-Nürnberg
---
Partners: