NGSE 4

Impressions of the NGSE4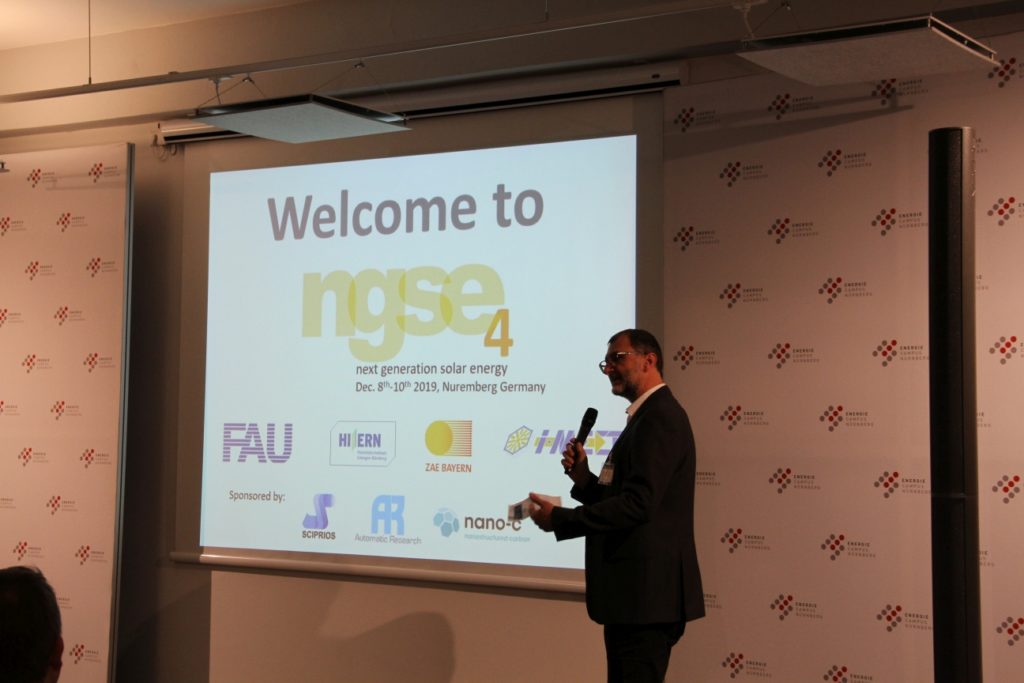 ---
Scientific Organization
Prof. Christoph J. Brabec
Friedrich-Alexander University Erlangen-Nürnberg (FAU)
Dr. Jens Hauch
Helmholtz Institute Erlangen-Nürnberg for Renewable Energy (HI ERN)
Dr. Ning Li
Friedrich-Alexander University Erlangen-Nürnberg (FAU)
Dr. Hans-Joachim Egelhaaf
Bavarian Center for Applied Energy Research (ZAE Bayern)
---
Topics
OPV Section
Materials – Design, Synthesis and Functions
Devices – Architecture, Characterization and Fundamentals
Applications – Stability, Large-Scale Printing and Analysis
Perovskite Section
Materials – 1D/2D/3D, high/low bandgaps, lead replacement
Devices – Architecture, Characterization and Fundamentals
Applications – Stability, Printing and Analysis
---
Invited Speakers and Schedule
Melanie Bertrand, Armor Corporate, France
Yongsheng Chen, Nankai University, China
Stelios Choulis, Cyprus University of Technology, Cyprus
Fei Guo, Jinan University, China
Anders Hagfeldt, Ecole Polytechnique Federale de Lausanne, Switzerland
Wolfgang J. Heiss, Friedrich Alexander University, Germany
Thomas Kirchartz, Forschungszentrum Jülich, Germany
Yongfang Li, Chinese Academy of Sciences, China
Weiwei Li, Beijing University Of Chemical Technology
Wanli Ma, Soochow University, China
Lei Meng, Chinese Academy of Sciences, China
Jie Min, Wuhan University, China
Mohammad Khaja Nazeeruddin, Ecole Polytechnique Federale de Lausanne, Switzerland
Daniel Niesner, Friedrich Alexander University, Germany
Henning Richter, Nano-C, USA
Bo Song, Soochow University, China
Erdmann Spiecker, Friedrich Alexander University, Germany
Tobias Unruh, Friedrich Alexander University, Germany
Hai-Qiao Wang, Chinese Academy of Sciences, China
Lei Ying, South China University of Technology, China
Hin-Lap Yip, South China University of Technology, China
Yuan Zhang, Beihang University, China
Yinhua Zhou, Huazhong University of Science & Technology, China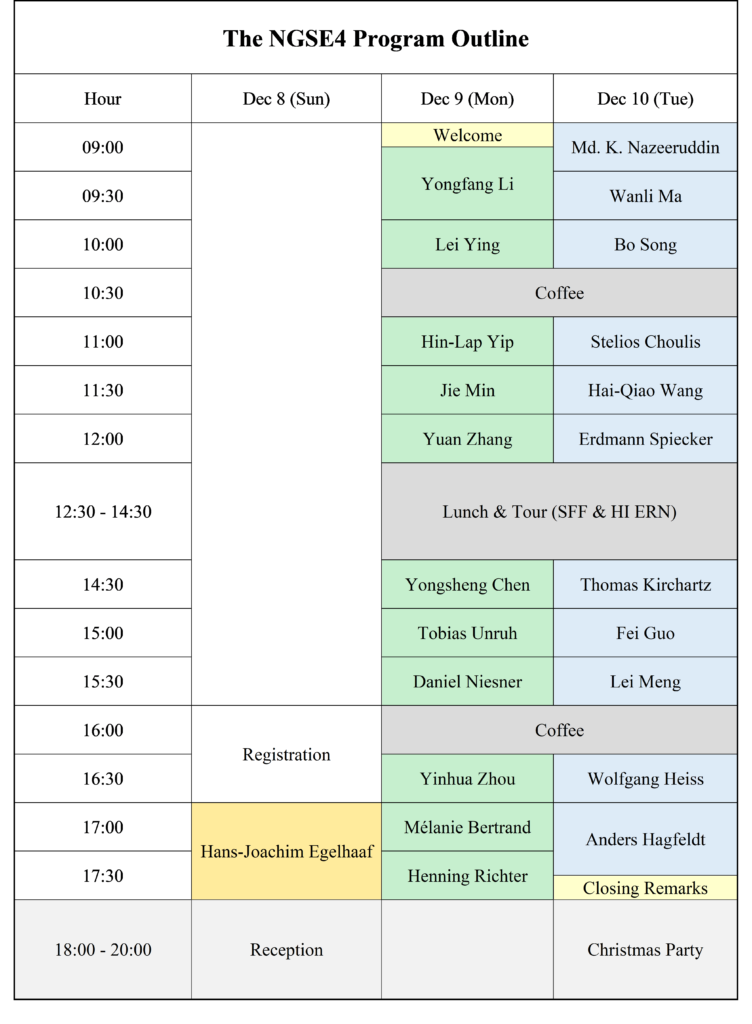 ---
Venue
Energie Campus Nürnberg
Fürther Str. 250, "Auf AEG"
90429 Nuremberg
Germany

How to get there:
By public transportation:
from Nürnberg central station:
Subway/metro line U1 direction Fürth
exit Eberhardshof
from Nürnberg airport:
Subway/metro line U2 direction Röthenbach
change subway at Plärrer in subway/metro line U1 direction Fürth (same platform but opposite)
exit Eberhardshof
From here it is only few minutes to walk. The best way to get your orientation is by our site map.
By car:
GPS-coordination: degree of broadness 49°27'36.93", degree of latitude 11° 1'42.19
Address: Fürther Str. 250, 90429 Nürnberg
Parking: A large number of parking spaces are available at Muggenhofer Str. 166.